The Last Judgment
Learning that we are part of a common life, shared with the people of God throughout the ages, is an important part of understanding what it means to say, "God is love" (1 John 4:16). The prayers of the Church direct our hearts towards a great chorus of prayers shared by the faithful through the ages. The voices of the Most Holy Theotokos with all the saints, joined together with ours, remind us of St. Paul's words:
For I am persuaded that neither death nor life, nor angels nor principalities nor powers, nor things present nor things to come, nor height nor depth, nor any other created thing, shall be able to separate us from the love of God which is in Christ Jesus our Lord (Rom 8:38–39).
Those who have gone before us, "those who have fallen asleep in the faith: ancestors, fathers, patriarchs, prophets, apostles, preachers, evangelists, martyrs, confessors, ascetics, and every righteous spirit…and especially our most holy, most pure, most blessed and glorious Lady Theotokos and Ever-virgin Mary,"1 have chosen, in their living and dying, Christ, the Light of the world. They are guides and intercessors, as we struggle toward Christ. But, ultimately, we each make choices of the degree to which we will live into our baptism. An essential part of the Gospel message is that human beings are free. "Where the Spirit of the Lord is, there is liberty"(2 Cor 3:17). The ultimate expression of this freedom is found in our ability to love. That same freedom, however, can also entail the refusal of love. As such, we can refuse the offer of God's love and choose, instead, to live in rebellion. This choice is reflected in the doctrine of the Last Judgment. Fr. Thomas Hopko, of blessed memory, offered this summary: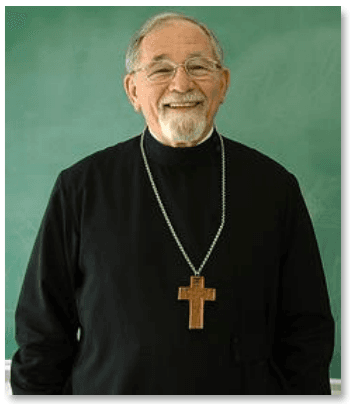 God takes no "pleasure in the death of the wicked" (Ezek 18.22). He "desires all men to be saved and to come to the knowledge of the Truth" (1 Tim 2.4). He does everything in His power so that salvation and eternal life would be available and possible for all… If some men refuse the gift of life in communion with God, the Lord can only honor this refusal and respect the freedom of His creatures which He Himself has given and will not take back… Even in this, He is loving and just…

The doctrine of eternal hell, therefore, does not mean that God actively tortures people by some unloving and perverse means… Neither does it mean that God "separates Himself" from His people, thus causing them anguish in this separation (for indeed if people hate God, separation would be welcome, and not abhorred!)... All are raised from the dead into everlasting life: "those who have done good, to the resurrection of judgment" (John 5.29). In the end, God will be "all and in all" (1 Cor 15.28). For those who love God, resurrection from the dead and the presence of God will be paradise. For those who hate God, resurrection from the dead and the presence of God will be hell. This is the teaching of the fathers of the Church.2
There are mysteries here that are beyond our knowledge and the doctrine of the Church. St. Paul spoke of mysteries "that cannot be uttered" (2 Cor 12:4) that were revealed to him at a certain point. He also once said that "eye has not seen, nor ear heard, nor has it entered into the mind of man the good things God has prepared for those who love Him" (1 Cor 2:9). Various Fathers of the Church have offered thoughts and speculations about the last things, but, in general, the Church has resisted saying more than it knows in the matter.
The most fundamental aspect of the judgment was noted in the quote by Fr. Hopko. God is love, and what we expect of His judgment is the reign of His love. That love can be rejected is an inherent aspect of the freedom required for love to be returned. What we see is that the will of God is abundantly revealed in the life, death, and resurrection of Jesus Christ. We are told that "God so loved the world that He gave His only begotten Son, that whoever believes in Him should not perish but have eternal life" (John 3:16). God gives totally of Himself (His only begotten Son), even to the point of enduring a shameful and painful death and entering into the darkness of Hades itself, that He might deliver us. This is His eternal will.
This eternal question should also be seen as a daily question. The great parable of the Judgment can be found in the Gospel of Matthew. Jesus said,
When the Son of Man comes in His glory, and all the holy angels with Him, then He will sit on the throne of His glory. All the nations will be gathered before Him, and He will separate them one from another, as a shepherd divides his sheep from the goats.

And He will set the sheep on His right hand, but the goats on the left. Then the King will say to those on His right hand, 'Come, you blessed of My Father, inherit the kingdom prepared for you from the foundation of the world: for I was hungry, and you gave Me food; I was thirsty, and you gave Me drink; I was a stranger, and you took Me in; I was naked, and you clothed Me; I was sick, and you visited Me; I was in prison, and you came to Me.'

Then the righteous will answer Him, saying, 'Lord, when did we see You hungry and feed You, or thirsty and give You drink? When did we see You a stranger and take You in, or naked and clothe You? Or when did we see You sick, or in prison, and come to You?' And the King will answer and say to them, 'Assuredly, I say to you, inasmuch as you did it to one of the least of these My brethren, you did it to Me.'

Then He will also say to those on the left hand, 'Depart from Me, you cursed, into the everlasting fire prepared for the devil and his angels: for I was hungry, and you gave Me no food; I was thirsty, and you gave Me no drink; I was a stranger, and you did not take Me in, naked and you did not clothe Me, sick and in prison and you did not visit Me.'

Then they also will answer Him, saying, 'Lord, when did we see You hungry or thirsty or a stranger or naked or sick or in prison, and did not minister to You?' Then He will answer them, saying, 'Assuredly, I say to you, inasmuch as you did not do it to one of the least of these, you did not do it to Me.' And these will go away into everlasting punishment, but the righteous into eternal life (Matt 25:31–46).
One contemporary Orthodox theologian3 has suggested an interesting reading for this passage. Rather than seeing each person as "all goat" or "all sheep," he suggests that each of us harbors both within our hearts. Every moment of the day is an opportunity in which we are able to feed Christ, to give Him drink, to take Him in as a stranger, to clothe Him, or to visit Him. We face the judgment at every moment. Our Christian life consists in struggling to be more sheep than goat. This is echoed in a famous saying of the Russian writer, Alexander Solzhenitsyn:
The line separating good and evil passes not through states, nor between classes, nor between political parties either–but right through every human heart–and through all human hearts. This line shifts. Inside us, it oscillates with the years. And even within hearts overwhelmed by evil, one small bridgehead of good is retained.4
We see that "small bridgehead" manifested in the "good thief" depicted in St. Luke's Gospel. Clearly guilty of terrible crimes and being "justly punished" (his own words), he, nevertheless, says to Jesus, "Lord, remember me when you come into Your kingdom." To him, Jesus says, "Today you will be with me in paradise." It is essential that we acknowledge that this judgment begins within our hearts. But this judge is like no other. For the feast of the Elevation of the Life-giving Cross we hear,
Today the Cross is lifted up,
and all the world is sanctified.
For You, while enthroned with the Father
and with the All-holy Spirit,
by stretching out Your hands thereon,
have drawn the whole world to Yourself,
that it might know You, O my Christ.
Therefore, grant divine glory
to those who trust in Your goodness.5
The irony of this identification (Cross and Throne) is revealed on the very day of the crucifixion. Kings are normally crowned while sitting on a throne. This King is crowned as He "sits" upon the Cross. It is proclaimed for all to see: "King of the Jews." Orthodox iconography makes the irony yet more clear, by changing the description hanging above the crucified Christ into the "King of Glory." The Cross is His throne, and the Cross reveals His glory.
This is the champion and judge of the book of Revelation: the "Lamb who was slain," and it is this Lamb who is most closely associated with "Him who sits upon the throne" (Rev 5:12-13). The Great Irony of the Christian Gospel is that all of these images of power are most clearly manifest in the Crucified Christ. Thus St. Paul says that he is determined to know only "Christ Crucified" (1 Cor 2:2). St. Paul does not treat this as a temporary, passing image, but the very image of God: "Christ crucified…the power of God and the wisdom of God" (1 Cor 2:2-3). This is not a momentary diversion. The Lamb is slain from the foundation of the world. It is an eternal image and revelation. And it is Christ Crucified that all things are revealed to be what they truly are. It welcomes the thief while the hypocrisy of others drives them away.
The second coming of Christ (the last judgment) remains a mystery until that Day, but we must hear and heed the words of Christ. Like a drumbeat in Matthew 24 and 25, our Savior exhorts His disciples to watch. "Therefore, you also must be ready; for the Son of man is coming at an hour you do not expect" (Matt 24:44). When Christ will return, we do not know. Our task in the meantime is to be prepared: to "be more sheep, than goat," to emulate the Wise Virgins (Matt 25:1–13) whose lamps were full and whose wicks were trimmed, to live our lives in humble attentiveness as we wait for that eternal day.
Read more: Judgment (opens in a new tab)